Visited Big Time yesterday, it's my first time there, so I was there with my family, wanted to visit them for the longest time, yet couldn't find the time to be there.
Nice to see a display of Seiko JDMs, Tunas and all the Orients and Orient Stars in the same place. My wife wanted to get a gift for me, so we were browsing around and I wanted to look at the Orient Stars that was posted recently by chris and eventually a few pieces caught my eye.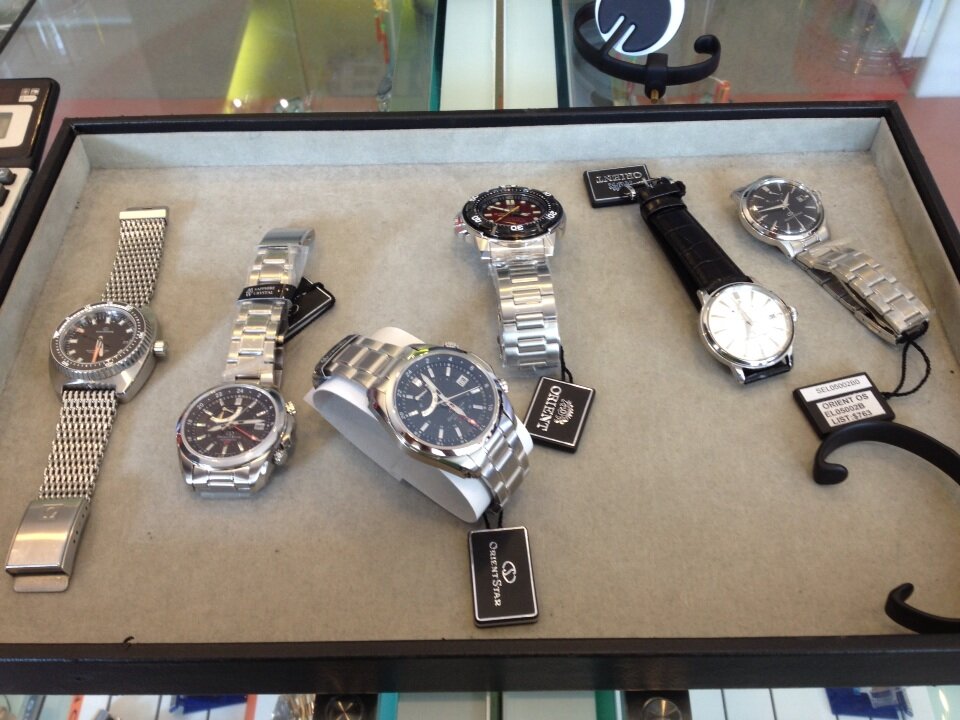 Wife suggested the M-Force but I didn't like the design and it's kinda light for it's size. Tried the Orient Stars but I prefer my dress watches to be on leather as the bracelet makes the watch looks small, then finally… the GMT or they called it the Starseeker.
I went on about this being the newer GMT model, although it was launched more than a year ago. Yeoman's review on it:http://yeomanseiko.com/2011/09/10/orient-star-gmt-dj00001b/
I had the chance to handle one in Japan, 3 years ago but it was the older model, the GMT hand was not independent. This however is, hand winding, hacking with a independent GMT hand. Basically like a ETA 2893 movement.
After handling it for a while, my mind is set, this is it.
The mix of brushed and mirrored finishing of the case makes the black dial stands out with the polished hands and indices. The red GMT totally pops out.
Flat sapphire crystal with a burst of light just take your breathe away.
I can't help it but to emphasize on the dial, the star burst is rather subtle, it doesn't show up that obvious with a naked eye.
As for the movement, I didn't expect a very detailed finishing for it's retail price tag of $1173.

Still the rotor is decorated, I will put it's finishing to be on par or at least better than Seiko 6R15.
The bracelet however reminds me of Seiko MM300.

Brushed with a slight touch of polished edges on the middle link.

Signed clasp, although I will prefer a double locking clasp, although this is not a dive or a tool watch. Additional protection is always good.
Finally a wrist shot.
The watch sits well on my wrist with the help of Big Time. If there's anything I can ask for on this model, it will be a heavier bracelet and a double locking clasp.
Enjoyed talking to the staff @ Big Time, extremely helpful. Even my daughter made herself at home running around the displays.